Vishnu P. Vikraman
I became interested in drawings and painting during my childhood and this became my passion during my High School days. Hindu epics and deities began to capture my attention. So it became my hobby to observe and examine paintings in the nearby temples. This helped me to study the styles and form of these paintings. Of course, it proved to be great inspiration to know about the colour scheme and aesthetic beauty.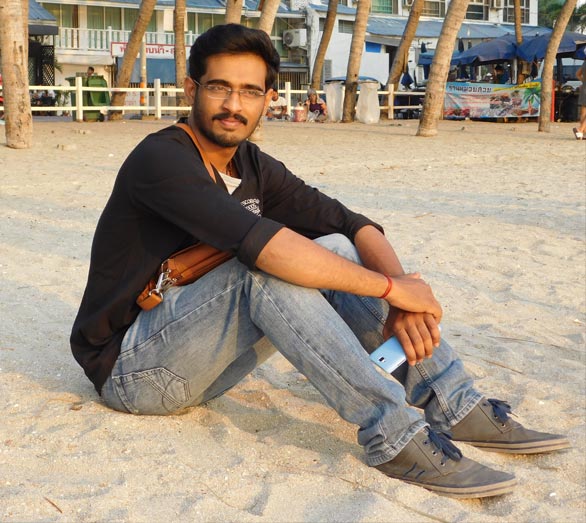 After my higher secondary I joined Sree Sankaracharya University of Sanskrit, Kalady for my degree in fine arts. This is the only University in Kerala where mural painting is taught as the main subject in the graduate level. In no time I was deeply motivated by the unique style and colour scheme of the murals. Longing to know more about mural paintings. I made habitual visits to Thiruvanchikulam Siva temple, Guruvayur Sree Krishna temple, Mattanchery palace etc. and tried to understand the paintings exhibited there and also made a sketch of relevant paintings. This has helped me a lot and under the influence I have added necessary elements to my paintings also.
I have done nearly 300 mural paintings during my tenure in Sree Sankaracharya University and Viswa Bharati University, Santiniketan. Let me introduce, with an element of honour and pride, some of them, like the Perumthachan series, (based on K B Sreedevi's literary work Agnihothram) Krishnaleela series, Ganapathi series, and paintings like Pradoshanirtham, Gagendramoksham, VettaSasthav, MalliyoorGanapathi, Ardhanareeswara, Sakthipanchakshri, etc.
After my graduation, I have worked with Dr. Amitha Bachan, a lecturer of M.E.S College, Trichur in a project for the tribal children of Vazhachal. It was a joined venture with the "Hornbill Foundation, Vazhachal" and I have given illustration to the specially designed books for the tribal children and these books have been published and printed. I also wish to arouse in the tribal children an inspiration for Kerala mural painting.
After four years in 2014 I got admission for Masters (M.F.A Mural) in Visva Bharati University, Santiniketan. In the period of two years I was inspired from there lots of Indian and western Traditional techniques include Jaipuri fresco, Ajanta, Italian frsco, Tera cotta Mural, Construction studies, Enamel painting, Egg Tempera, casein tempera, and so on under Master Sri Nandudulal Mukergi and Dilip Mitra. In this period I was awarded to participate in "The Best Student Exchange Program"  from Visva Bharati University to Bhurapha University, Thailand for one month, in this period I visited a few traditional temples and I studied about theirs tradition. The inspiration of Thai lacquer painting and murals helped me to learn the techniques and I was able to paint a few paintings in the Thai tradition with Gold and natural colours.
For my final project I was invited and I had been provided a space in one of the most prominent historical building in Visva Bharati University – namely "Black House". The painting base I completed in Jaipuri technique and I colored it using casein Tempera. Now my painting is permanently displayed on the wall of Black House along with paintings and sculptures created by world famous Masters such as Sri. Sree Nandalal Bose and Sri. Ramkinger Beij.
The way of teaching at Visva Bharati University opened my eyes to a new level of thought in my Artistic journey. Now I am concentrating to do my works using the traditional wall preparations methods and by using colours from different medium like Jaipuri fresco, Italian fresco, Kerala tradition, Italian fresco, Ajanta, tile murals, Thai tradition and so on… I am collecting the required colors for my paintings myself and from nature. I use stones and leafs from different places; specially from Kollur, Jaipur, West Bengal, etc.