Black House
Supervised and built by Ramikinkar Baij, Nandalal Bose and additionally worked on by Prabhas Sen, Sukhomoy Mitra among other students along with students in 1938, may be considered an experiment firmly placed within the experimental ethos of those teaching at Kala Bhavan at the time. The Black House was made from mud, painted black and its walls covered with a variety of motifs, local and international, in low relief.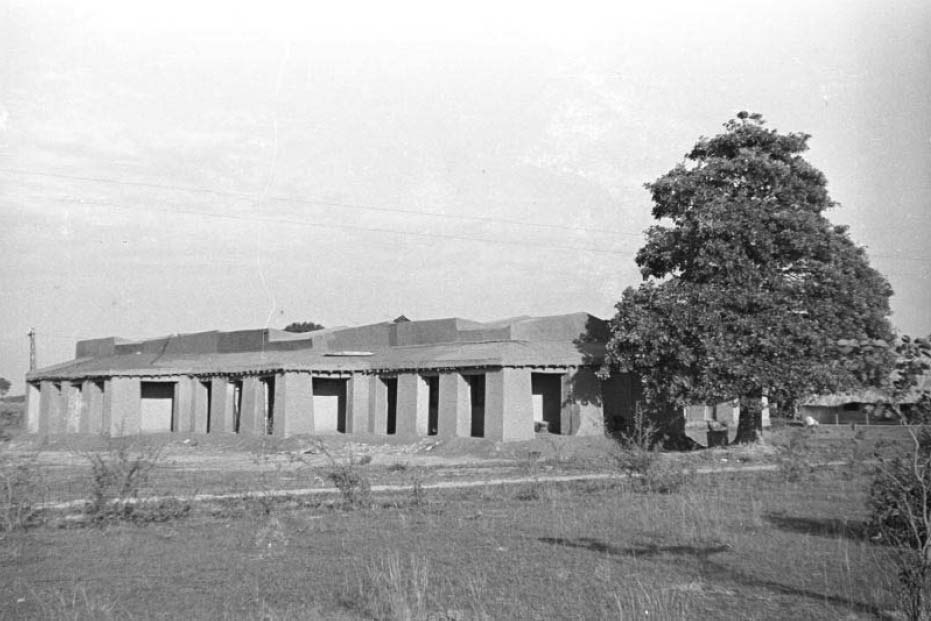 Kala Bhavan, the parent institution was founded on the integration of art and craft. A year before the making of ther black house Shyamali, the mud house was built in the housing complex of Tagore . Nandalal and Ramkinker , especially Ramkinker had a hand in that . So in 1936 when Black house came up they already had some experience in making mud dwellings.
Under the aegis of Visva Bharti university I received the sanction to do wall painting in the historically Iconic, mud building 'black house' build by recreating the famous sculptures of India others of world renown. The work was carried out after removing completely the damaged wall painting.
The walls were constructed in Jaipur style using quick lime, marble dust, and jaggery mixture which was incorporated with (milk protein) casein tempera that makes use of cheese, quick lime and natural colours. This momentous art work is based on many cave paintings of Ajanta in Maharashtra.
This work was completed with the support and guidance of my teachers Sri Nandu dhulal Mukherji and Dhilip Mithra of the Mural Department Visva Bharati University, (kala bhavan). These paintings are done in such a way that they will not be damaged by exposure to Rain and Sun.
---
See what my friend Shubhashis had to say about this project.
---
Project Details
Santiniketan, West Bengal

Visva Bharti University

Black House, Mural Painting

Nil

1st Jan 2017 to 29th May 2017

West Bengal, India